The waterlogged entrance to Ecospace Bellandur after heavy monsoon rains, seen in this photo from Bengaluru, September 6, 2022. Photo: PTI/Shailendra Bhojak
All cities in India have the same problem with respect to floods and stagnation – unplanned urbanisation, built-up environments in ecologically sensitive areas, lack of drain and culvert maintenance baked into our planning, governance, financial independence and/or issues at urban local bodies. The only difference between cities is whether or not a city receives heavy rain.
The animation below shows the topography of Bengaluru. Note the valleys in which water flows when it rains in the city and how the city has grown over these valleys and has blocked the flow of water, causing water stagnation and floods.
This is a visualisation of the topography of Bengaluru, including the Bruhat Bengaluru Mahanagara Palike municipal boundaries.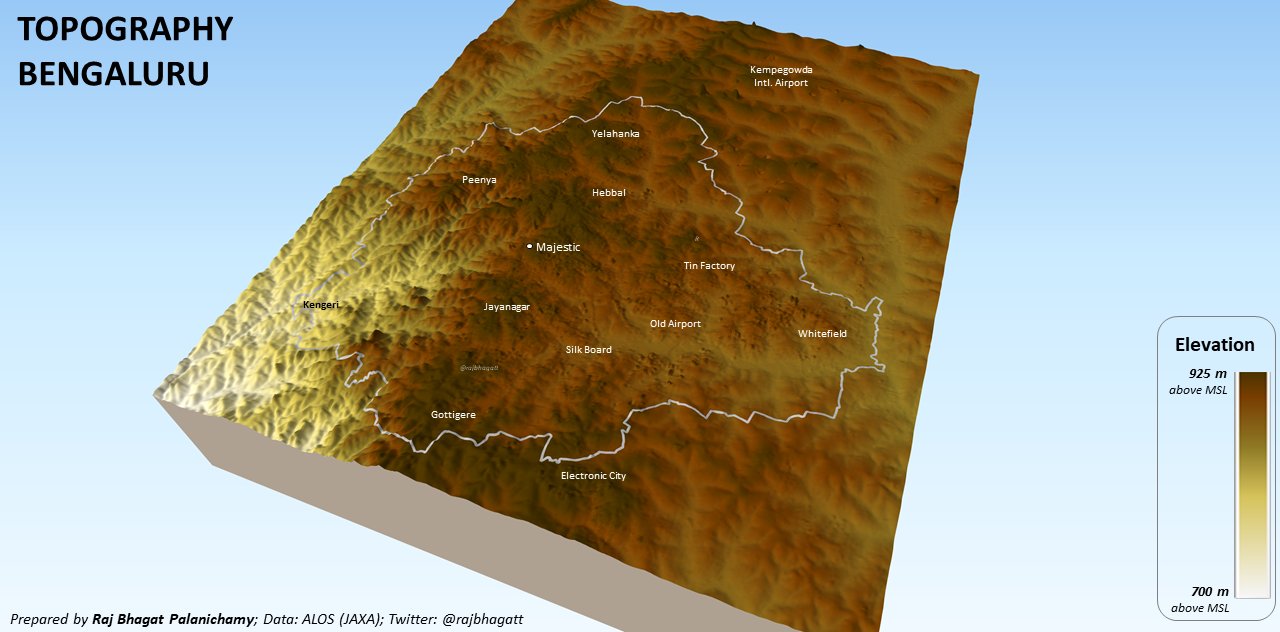 Note below the valleys created by the flow of water. These valleys are the conduits for rainwater and all the lakes in the city are bunds in these valleys.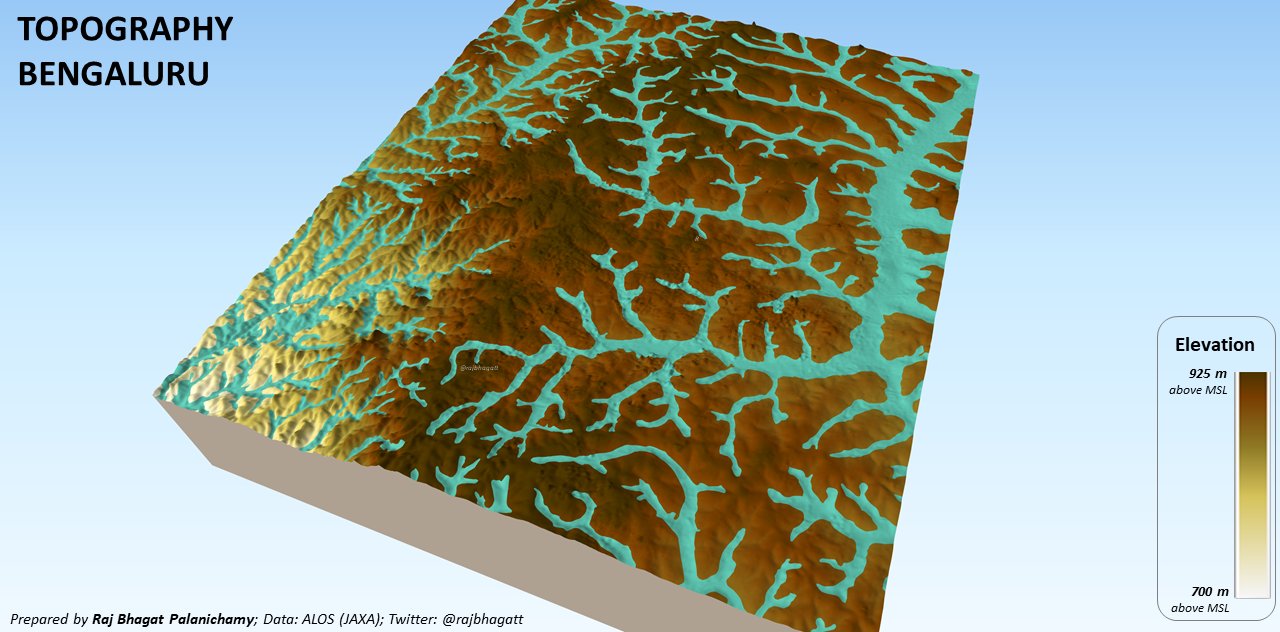 The animation below shows the expansion of the built-up area over 25 years – a good amount of which has happened inside these valleys. As a result, the movement of water has become blocked while the surface flow due to over concretisation has increased.
It could be Bengaluru today, and Chennai, Mumbai, Kolkata or Kochi tomorrow. When it rains heavily, people report them and talk about these issues. But once the monsoons are over, things go back to square one and we resort to continuing the same practices that created these urban hydraulic issues in the first place.
This time last year, Chennai received heavy rain. As I wrote then:
… even after multiple incidents of flooding, the local government [has been] converting the floodplains of the Adyar river and other streams into urban areas, to accommodate residential, commercial and industrial activities. Today, it would be impossible to vacate many of these premises.
Some of the areas near Adyar river that were flooded in 2020 are shown in the map below, based on satellite data.
There doesn't seem to be any major Indian city in which one can confidently say that the reason why there are flood-related issues there is because of an unpredictable or climate-change-related rain event for which the city wasn't prepared. As things stand, our cities are not ready for even normal rain.
It is also hard to be confident that any major Indian city will solve its urban-flooding issues within a few years. It is a complex issue not just hydrologically or planning-wise but also socially, economically and politically – and even in terms of awareness!
Why awareness? These floods are all short-term memories. Come summer, many of the same people who complained about the surging waters will likely forget and expect the local government to allow the construction of big buildings of mortar, bricks and glass, and have new tarred roads, in the middle of ecologically sensitive areas, and will cancel those who talk about the environment.
This article is a merge and compilation, with permission, of two Twitter threads (this and this) and a previous article, all published by the author.
Raj Bhagat Palanichamy is a manager of geoanalytics at the World Resources Institute – India. He tweets at @rajbhagatt.